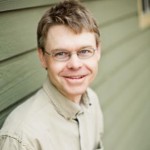 Garage Grocer was started through our family's quest to eat local for one year. We searched for local foods in our hometown (Longmont), trying to connect ourselves to the foods we eat.
That was a great year – more than the great foods we found, the people we've met on the journey opened our eyes to what makes a healthy community. Don't get me wrong! The food is great – but it is the connections, the new friends, and the commitment we see from local producers that keeps us going.
Sharing the foods and the connections with our neighbors was a natural fit. So we welcome any neighbors – no matter how close – to stop by and shop in our garage. We hope it will be a great experience!
Eat well,
Nels